WORKSHOP WEDNESDAYS: THE DREAM TEAM AT SMS HQ
Many fabricators prefer to work solo. It means they can create what they see in their head without needing to put the often complex structures into words. Like a painter trying to describe a colour, words can easily become irrelevant. When we heard the complete opposite was going down at SMS Fabrication with two fabricators of such high caliber to be teaming up on a daily job, we knew the car would be something very special indeed. All tools were dropped and we raced over to see what was going on. We weren't disappointed.
We walked in and just stood there for a bit to take in what the hell we were seeing. Words once again weren't needed. Earnest workers Graeme Smyth of SMS Fabrication and Adam Hedges of C's Garage looked up, gave a quick grin and got straight back into fabrication mode.
In front of us was Carl Thompson's Lexus GS300, otherwise known as the 1,000hp 26B turbo nitrous 4-rotor tyre destroyer. What a machine.
If you haven't seen it already and are wondering just what a 1,000hp 4 rotor sounds like, click here.
As Adam and Graeme worked on a giant inlet manifold we soon had questions. "The biggest turbo we could find" and "5 inch exhaust" were thrown around whilst we wondered just how much more abuse a pair of tyres could take.
Since drawing crowds of drooling fans and melting tyres over the past 2 and a half years, Carl has decided that 1,000hp just wasn't enough. Things get serious pretty fast when you decide your already massive turbo doesn't cut it and "the biggest turbo we could find" quickly made it's way into the mailbox. As a result, almost the entire engine auxiliary package has had to be refabricated. This includes an incredible 5 inch exhaust, exhaust manifold and wastegate setup, a custom intercooler and radiator system that would look at home on a full-blown drag racer, an upgraded inlet manifold and extra beefy throttle body.
Both Graeme and Adam produce some of the best fabrication work to come out of our small country and it was impressive to see 2 guys working so strongly in unison. Both know exactly what had to be done to take this machine to the next level with few words needed.
So how exactly do you find yourself working on such a weapon? Well not only is Graeme a professional fabricator but he's also a New Zealand go-kart champion, a demon behind the wheel of his self built S15 drift car and can often be found racing million dollar GT machines around the world's best race tracks.
Adam's had a massive impact in the international drifting scene. He's the master fabricator behind the C's Garage competition Silvia's and has a part in building a large amount of the best cars you'll see at any local track event. His parts get sent around the world weekly and the garage is always full with customer machines in for upgrades. To top it off he competes in New Zealand's highest level drifting championship in his ground up self built C's Garage Silvia.
All of these things highly qualify these two to work on the most challenging machines. It's for exactly these reasons why we choose them to field test all new Earnest products by thrashing them to within an inch of their life. From there we make continuous improvements until the guys are satisfied the products are the best they possibly can be.
As you read this, the fabrication will have been finished and Carl will have it prepped for paint, final assembly and tuning. With all the upgrades to an already truly insane machine, we're hyped to see it tear the track to pieces this summer. Good luck guys and cheers for letting us gawk at your awesome work. Back to the workshop we go.
---
Also in THE EARNEST WORKSHOP BLOG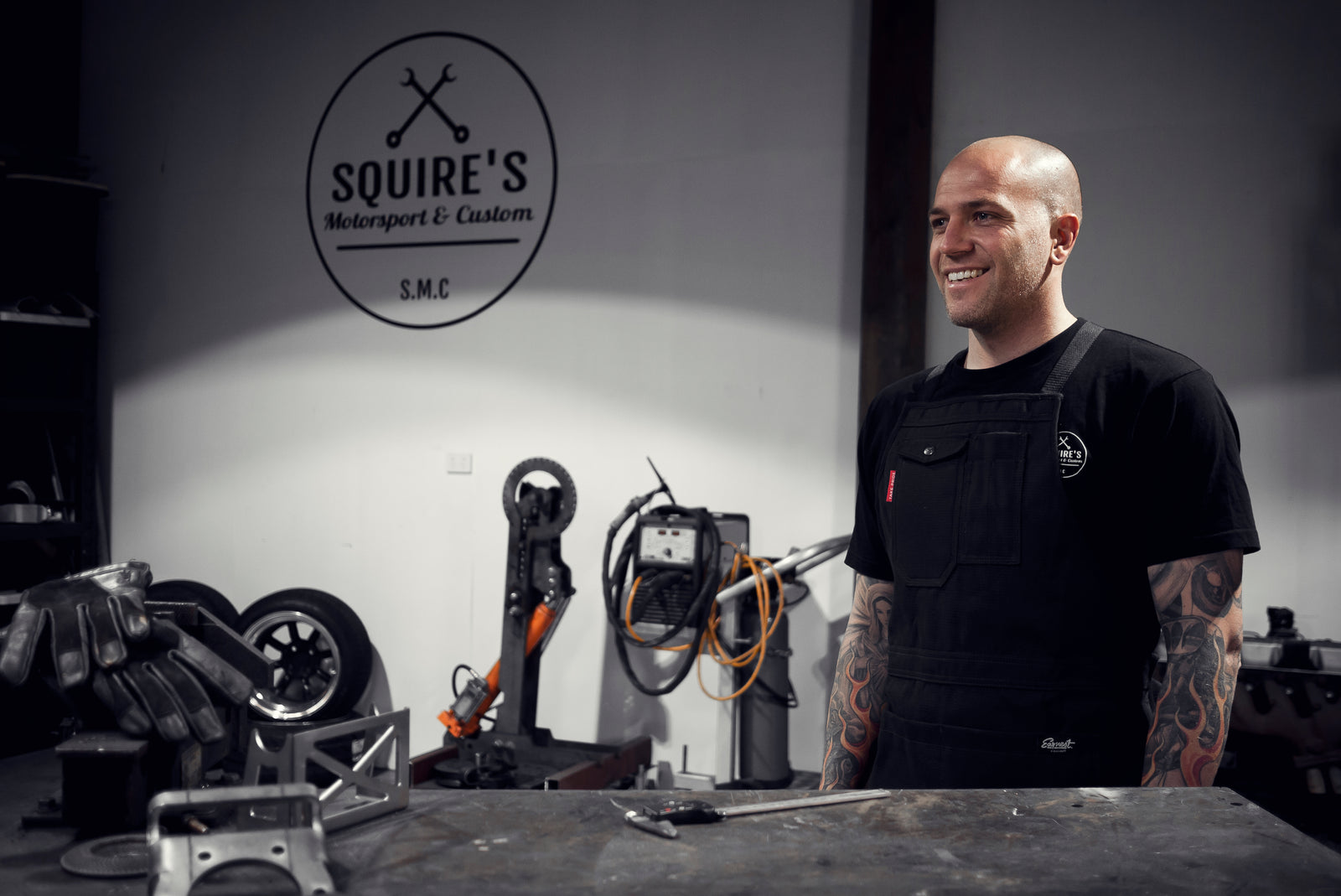 Ever wondered how our Squire workshop apron got its name? Kiwi motorsport fixture Mike Squire might have some idea.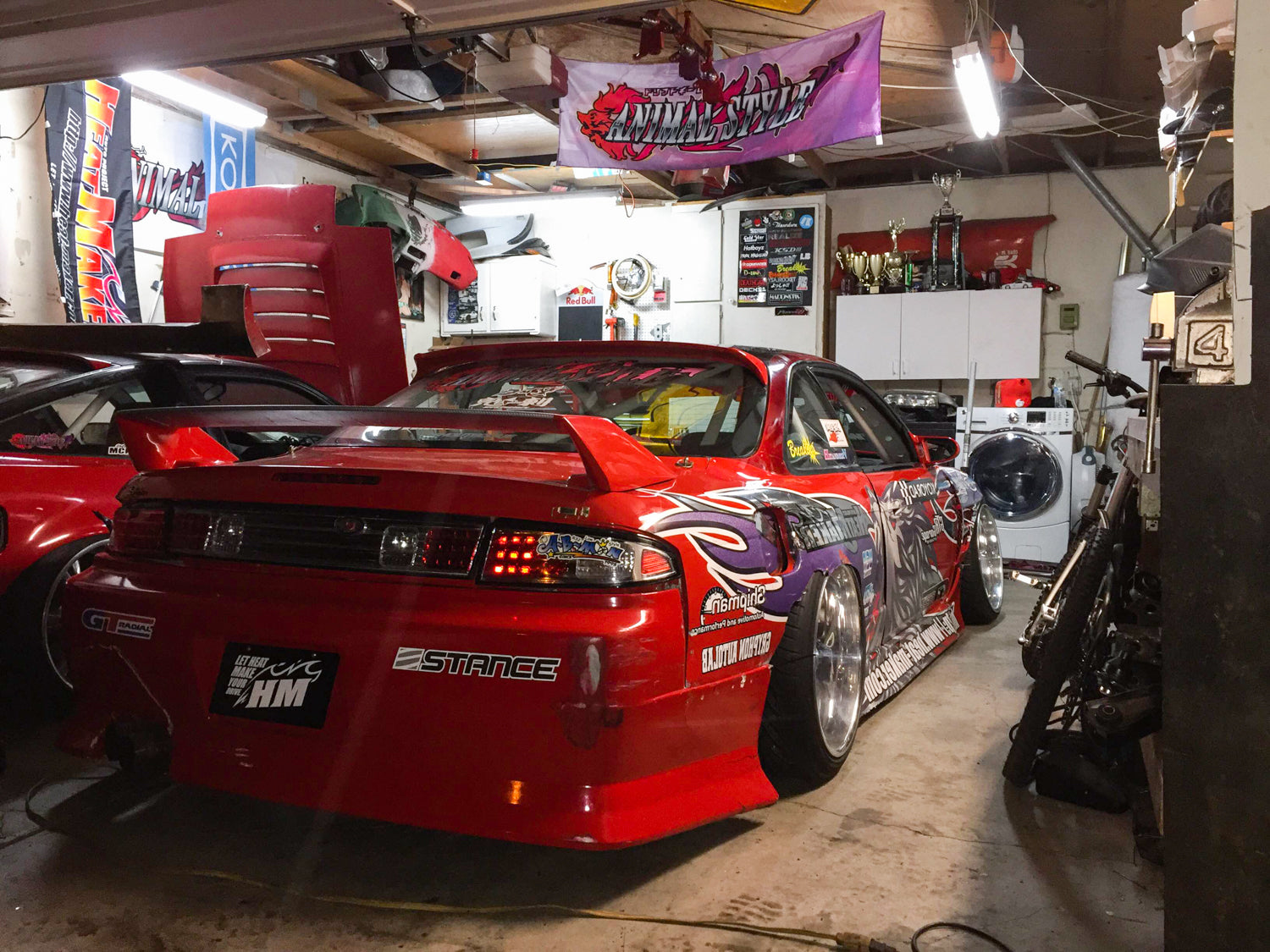 It's the feeling of driving that has lead Julian to spend his nights tucked away in the workshop building some of the wildest machines you are likely to find at the track.
"If I'm not creating something, I feel like something is lacking in my life." Meet the hands and mind that is Sam Haring.